Spinning yarn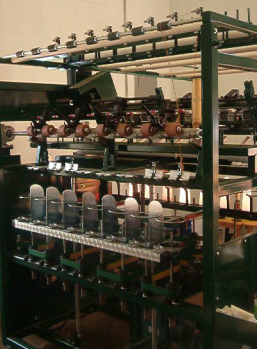 Spinning and plying machine
Spinning into Yarn - this is the most important of all the steps and it is here that each batch will be processed to its highest potential. Using precise calculations and "feel", we tune our spinner based on staple length, fineness and strength. This is an important step since over twisting will ruin the innate qualities of alpaca fiber and create a rope-like yarn.

Plying the Yarn - this process twists the single strands of spun fibers together into a lofty 2 or 3-ply yarn in bulky, sport or fingering weights.

The Final Step - Your beautifully spun yarn will be put onto cones before it is weighed to determine the final weight and is ready to be returned to you. You may choose to have your yarns made up into skeins at a small additional cost.

---