Roving, batts, blending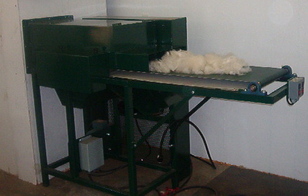 Picker machine
Washing - We have water which can reach 180 degrees so scouring is possible for sheep's wool.

Picking the fiber - Our picking machine takes out most of the dirt, debris and vegetable matter from your fleeces. Picking opens and separates the fibers for carding. Blending of different fibers can be done at this time. We offer several natural fibers which are suitable - wool, mohair silk and bamboo - for blending. You may also choose to blend different colors of the same fibers to create lovely colors.

Carding the Fiber - the fiber is further opened and most of the remaining second cuts, guard hair and vegetable matter are removed. As the fiber comes off the roller it forms a web which will become either roving or batt. Well carded roving is a spinner's dream.

Pin Drafting - we are among the few mills which take the additional step of pin drafting the roving before spinning. This process further combs and aligns the individual fibers into smooth sliver. We can now create beautiful semi-worsted yarn.
---